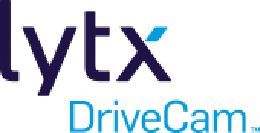 PREVENT COLLISIONS, SAVE LIVES, AVOID INJURIES
The DriveCam programme from Lytx is an in-vehicle video based risk management technology, which helps fleet owners identify the root-cause risky behaviours that lead to collisions. Predictive analytics data is used to show specifically who and what are the riskiest behaviours going on in a fleet. This information is used by fleet owners to coach drivers to prevent collisions from happening in the future.
Learn More >
DRIVER FATIGUE & DISTRACTION MONITORING SYSTEM WITH REAL-TIME DRIVER ALERTS TO REDUCE COLLISION RISK
DriveAlert is the new active in-cab fatigue management system on the market and is a solid competitor to existing product with the benefit of interactive reporting and integration into the DriveCam system.
The DriveAlert is an early warning system that actively tracks the drivers eyes & facial features to detect fatigue or distracted driving.
When detecting these signs an audio alarm will sound to alert the driver of their fatigued or distracted state.
If they continue to drive & show signs of fatigue or distraction the system will activate the DriveCam unit and our 24/7 Crisis team will notify you of a driver who is in danger of crashing. Meanwhile the unit will continue to alarm in a high pitched tone followed by voice alerts.
LEARN MORE >

LEARN MORE / MEET WITH US
Kara Payne
Strategic Account Manager
M: 021 750 978
Duane Courtney
National Risk Manager
M: 021 220 1417 (NZ)
Contact Support >