Our Solutions
Detect Driver Fatigue
FATIGUE AND DISTRACTED DRIVING MONITORING SOLUTION
with an audible alarm that increases in volume and frequency to force a driver to take note of his dangerous fatigue level and stop the vehicle before a possible collision or to redirect his attention from any distraction. Introducing DriveAlert+
THE ABILITY OF A DRIVER TO SELF-ASSESS HIS FATIGUE LEVEL DIMINISHES AS HE GROWS MORE TIRED.
Many accidents directly result from fatigue and driver distraction, placing a burden on the transport industry, already under the strain of a challenging economy.
DriveAlert+ is linked to DriveCam online – now it not only warns the driver but also generates a video clip for the fleet owner to assess the occurrence – whether cell phone use, sleep apnoea or other driver distractions. Linked to our Early Warning service, real-time alerts via SMS or telephone (severity dependent) will timeously warn the fleet owner, enabling preventative intervention.
DriveAlert+ recognises fatigue and distracted driving by monitoring a driver's retinas and face.
Using the PERCLOS measure of alertness, it detects fatigue even before the driver closes his eyes. The unit looks like a camera but incorporates a high-end infrared camera, microprocessor, memory modules and alarm system.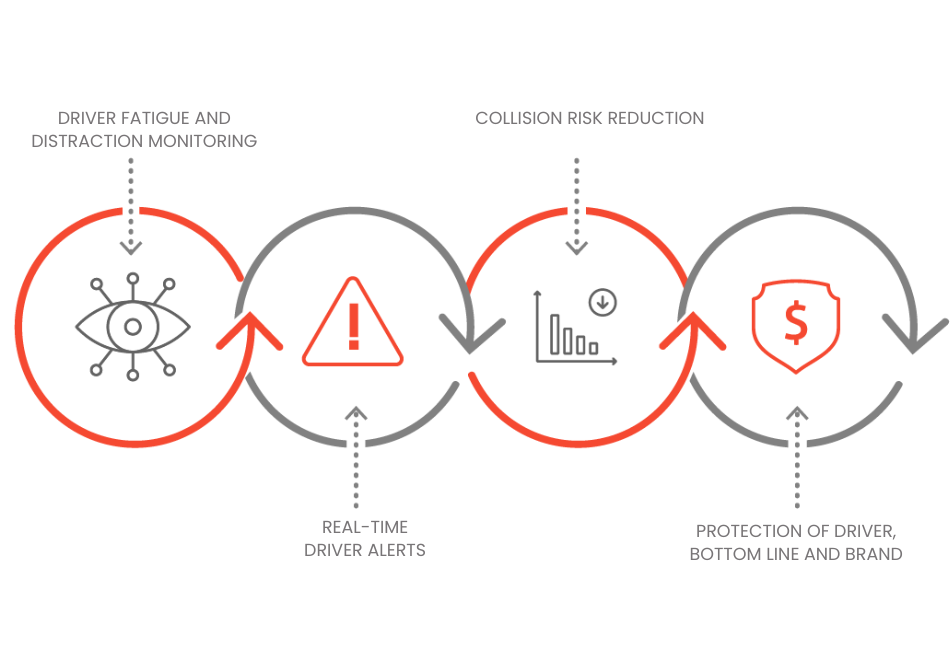 DRIVEALERT+ IS AN EARLY WARNING SYSTEM
THAT ACTIVELY TRACKS THE DRIVERS EYES & FACIAL FEATURES TO DETECT FATIGUE OR DISTRACTED DRIVING.
When detecting these signs an audio alarm will sound to alert the driver of their fatigued state. If they continue to drive & show signs of fatigue the system will continue to alarm in a high pitched tone followed by voice alerts.
The unit looks like a camera, however incorporates a high-end infrared camera, microprocessor, memory modules & alarm system.
Fatigue and distracted driving monitoring 24/7 in all weather, light, conditions, including if driver is wearing sunglasses.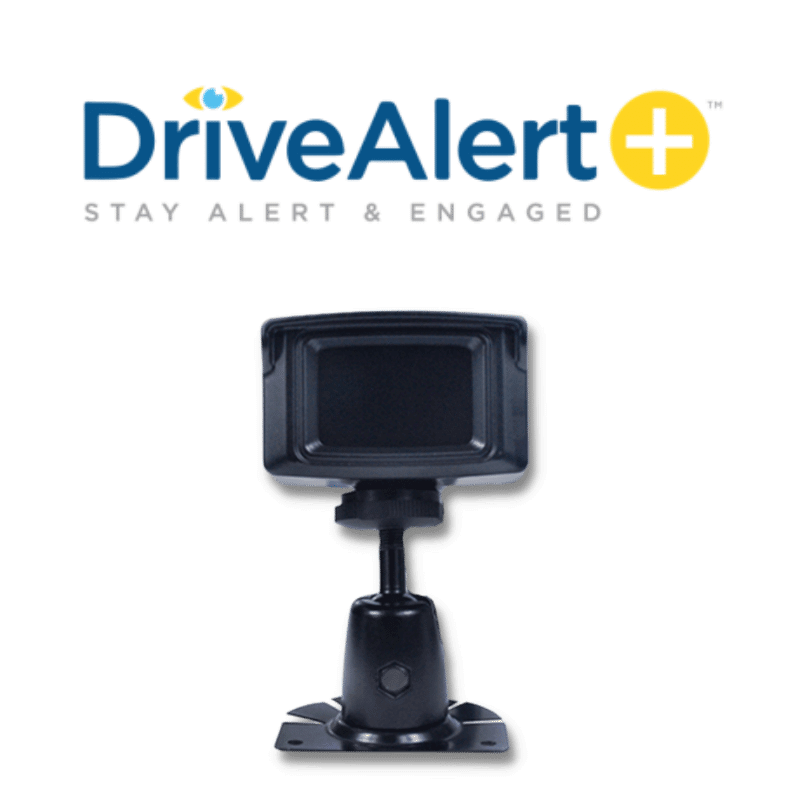 MONITORING EYES AND FACE
DriveAlert+ recognises fatigue and distracted driving by monitoring a driver's retinas and face. By incorporating the PERCLOS system (Percentage of Eye Closure), fatigue is detected even before the driver closes his eyes. A high pitched alarm followed by voice alerts is used to make the driver take note of fatigue levels or distractions.
AUTOMATIC DRIVER SCANNING ON VEHICLE START-UP
On each vehicle start-up, the DriveAlert+ monitor will scan the driver's eyes and facial features to recognise any future changes related to fatigue or distraction.
DRIVECAM INTEGRATION
DriveAlert+ can also activate DriveCam and send video footage of fatigue and distracted driving incidents.
– Able to operate under all weather conditions
– Infrared when driving at night
– Not affected by drivers wearing glasses or sunglasses
– Driver's vision will not be obscured or blocked in any way
– The unit starts monitoring at once the vehicle reaches a speed of 45km/h
– The unit will be installed into a tamper-proof case and then mounted in a position to avoid tampering, setting adjustment and power disconnection etc.
– Components can operate between -10 degrees to +50 degrees Celsius
– Alarm sensitivity and volume is adjustable
24/7 CRISIS MONITORING SERVICE*
*WORKS ONLY IN CONJUNCTION WITH DRIVECAM FITTED VEHICLES
This service is purpose-built as an active backup for the DriveAlert+ solution. When the DriveAlert+ triggers a second time within 2 minutes, the unit triggers a 12 Second DriveCam video event (8 seconds prior to trigger and 4 after – both inside and outside the vehicle). This event is immediately sent to our 24/7 Crisis Monitoring Centre where the video is reviewed immediately to reduce false positives and keep the data accurate for reporting purposes.
Our clients will receive email/text alerts for minor issues such as distraction. Our clients receive texts, emails, and phone calls for major issues such as drowsy driving or falling asleep.
A fast turnaround is vital, so we strive to be as rapid as possible. The latest turnaround figures from trigger to client sit in the 2-3 minute bracket.
This is a game-changer and sits to compete directly with other in cab-fatigue management systems on the New Zealand Market